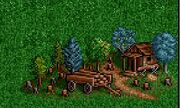 Sawmills are a complete necessity in each Heroes, for it provides your town with wood. Each sawmill provides the player with 2 peices of wood each day

It is commonly one of the most used resources along with ore.
In the later Heroes game (3 - 5), you can place creature units to defend your resource - producing buildings.