Necromancer (Ashan)
Comments

0
2,957pages on
this wiki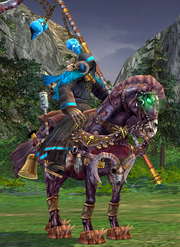 The necromancers, sometimes also the
Spider Cult
, are an often shunned and despised splinter-sect of the
Wizards
of the
the Seven Cities
, who developed their magic in
461 YSD
and who clashed many times with their brethren and their allies. They have developed their own branch of Primordial magic, which they call Necromancy, that focuses on the erosion of the body and domination of the spirit, so that they can manipulate the dead and are able to let them rise again as undead.
They do not seek to convert all the nations of Ashan to their morbid belief, nor to kill them all and raise them as undead, but rather to have a dominant place in the world as protectors of the equilibrium between the worlds of life and death.They believe that the pursuit of magical knowledge without reverence to the Dragon Goddess will lead to the ultimate destruction of Ashan.
History and Teachings
Edit
Necromancy was first invented by the magician Belketh, student of Sar-Shazzar, one of the disciples of the Seventh Dragon. They began as a cult, forced to hide within the society of the Seven Cities. After many terrible civil wars with their wizard brethren, they fled to the valley of Heresh, were they built their own necromantic kingdom.
Belkeths teaching emphazised the third aspect of Asha, the Face of the Crone, who ends life and fulfills destinies. In his teachings, Asha was depicted as a gigantic spider, sitting in the web of life and administering death and rebirth. Death alone is seen as a way to enlightment and the senses and desires of the flesh are depicted as flawed and tricked. The only way out of this is to become undead, who aren't bound to their senses and are able to see the full truth of the sacred cycle. All necromacners strive to become undead Liches, or Asakkus, and then further transform into vampires, or Akhkharus.
Necromancers believe that life energy is nothing but a resource that should be used for the protection of the sacred cycle of Life, Death and Rebirth. Souls pass on, and Asha uses all.
Social life
Edit
Necromancer life is ascetic in the extreme. Sensual pleasures are frowned upon, as is any sort of gaiety, or celebration. Citizens speak in whispers and low tones, nobody hurries anywhere, and there is little change on the streets from day to night. Those who have tasks do them, quietly, and then go home to the generally childless social groupings called "families" for lack of a better term. Necromancers spend their birthdays in seclusion and penitence. Procreation is generally frowned upon as a distraction from the greater work.