Welcome to Might and Magic Wikia!
Might and Magic
is an Epic Fantasy and Science Fiction franchise by New World Computing and Ubisoft Entertainment.
Journey now into an age of chivalry in an alternate reality...
Diary entries
Current Poll
What's your best Might & Magic spin-off game?
From other wikis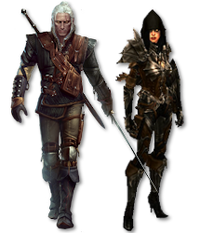 RPG Games
Go to these sites for info or for help with your own wiki!
AdventureQuest • Arcanum: Of Steamworks and Magick Obscura • Baldur's Gate • Dark Souls • Deus Ex • Diablo • Divinity • Dragon Age • Dragon's Dogma • Elder Scrolls • Fable • Fallout • Faster Than Light • Fate/Grand Order • Five Nights at Freddy's World • The Gamer's Alliance • Legend of Heroes • Live A Live • Mass Effect • The Memory of Eldurim • Might & Magic • Shadowrun • Stories: The Path of Destinies • Tom Clancy's The Division • Torment • Ultima • Undertale • The Witcher
Want your community included? See how!