Ludmilla
Comment

1
2,974pages on
this wiki
Ludmilla is a hero in Might & Magic: Heroes VI and Clash of Heroes.
Background
Edit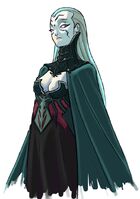 Born the daughter of the Duke of Bull, Ludmilla found from a young age that the politics of court were about as volatile and world-changing as a mouse's wind. Instinctively grasping for a surer, faster form of power, Ludmilla found herself living a secret life as she fell in with a den of Necromancers who had great plans for the future. When one of their number, a lascivious Vampire, became her lover, she took to wearing a studded collar as a coded symbol of her blossoming rebellion - that or to cover the bite marks. It was only a matter of time before she took the ritual, and became a Vampire herself. Immortality is such a boon when you're a power-hungry sybarite.OffBck
Before the Eclipse, she gathered power to restore Heresh, dealing with Azh Rafir. She imprisoned Markal, as he interfered with her plans. When Fiona went to gather the energy to restore her life, Ludmilla came and stole that energy. Fiona went to her and defeating her in her tomb. The tomb collapsed and soon Ludmilla died, ending her plan to restore Heresh.
Might & Magic: Clash of Heroes
Edit
Ludmilla is a boss character in the campaign and an Undead leader in Quick Play.
Might & Magic: Heroes VI
Edit
Ludmilla is an Death Knight.
Scenarios
Edit
Necropolis Campaign
Edit
Appearances
Edit
Ludmilla appears in Might & Magic: Heroes VI and Clash of Heroes.