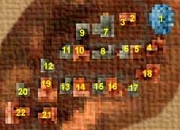 Silver Cove is a large town in Might and Magic VI: The Mandate of Heaven. It is located in the Paradise Valley region.
Map guide
Edit
The Sparring Ground: Training grounds. Location of Charlemagne, who offers training without a maximum level.
The Last Chance: Inn. Location of the innkeeper Melissa.
Home of Ken Chomais, an alchemist hireling.
Home of Christian Vela, a scholar hireling.
The Enchanted Hauberk: Armorshop. Location of Theodore, who sells fourth-level leather armor, chain armor, plate armor, shields, helms and gauntlets, and has specials on fifth-level plate armor, helms, and gauntlets.
Empty house.
Singing Steel: Weaponshop. Location of Benedict, who sells second-level swords and daggers, with specials on fourth-level swords and daggers.
Mighty Magicks: Magic shop. Location of Alastair, who offers fifth-level miscellaneous artifacts.
Home of Michael Tuck, a guide hireling.
Home of Anthony Hargraine, a tracker hireling.
Home of Miles Loman, a pathfinder hireling.
Home of Beverly Sweetwater, a scholar hireling.
The first home of Yvonne D'arcy, a cook hireling.
Home of Wolf Armstrong, a healer hireling.
Home of Tyger Helms, a navigator hireling.
Home of Florimel Evylen, a minor NPC.
Home of Zeke Magellan, a sailor hireling.
Empty house.
The second home of Yvonne D'arcy, a cook hireling.
Home of Ta Li No Gharma, a minor NPC.
Home of Su Lang Manchu, who teaches master dark magic.
Ad blocker interference detected!
Wikia is a free-to-use site that makes money from advertising. We have a modified experience for viewers using ad blockers

Wikia is not accessible if you've made further modifications. Remove the custom ad blocker rule(s) and the page will load as expected.