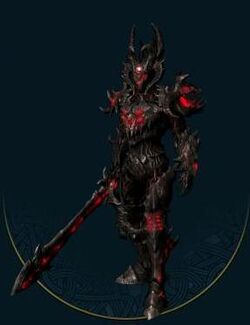 "The Chaos Lord is to demon legions what oil is to fire."

Chaos Lord is the Blood Might Hero class for Inferno in Might & Magic: Heroes VI.
In Sheogh, Luck is a form of Power. None have learned the extent of this aspect as well as the Chaos Lord, who in gaining the favours of Urgash for daring and ever riskier exploits, has acquired the capacity to bend the rules of fate and destiny. The leader's legions not only grow in confidence under the Chaos Lord's command, but become uncannily precise in battle, devastating their astonished foes.
Abilities
Edit
Being the Blood version of Heretic, they have the Hellfire Aura ability and inflict Scorching Strike effect, plus:
Demonic Luck
The damage of critical hits is increased for the hero's army by 25%.OffBck
Requirements: 200 Blood points

---
Mark of Chaos
The next 3 attacks on the target stack will automatically be critical hits. (Active Combat, 1 Charge.)'OffBck
Requirements: 1000 Blood points, Level 5
Known Chaos Lords
Edit