The Asylum is the town type associated with Chaos in Heroes of Might and Magic IV.
This town is led by Might heroes Thieves and Magic heroes Sorcerers. You will also meet Death knights, Necromancers, Archers and Druids in the local taverns.
Magic schools
Edit
Creatures
Edit
Non-town creatures
Edit
Unique Structures
Edit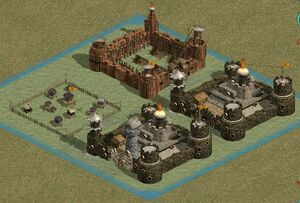 Mana Vortex: Temporarily gives the hero twice their normal number of spell points.
Thieves Gauntlet: Increases the hero's Melee Attack by 3 and Ranged Attack by 2.
Battle Academy: Provides each hero with + 1,000 experience.
Ad blocker interference detected!
Wikia is a free-to-use site that makes money from advertising. We have a modified experience for viewers using ad blockers

Wikia is not accessible if you've made further modifications. Remove the custom ad blocker rule(s) and the page will load as expected.